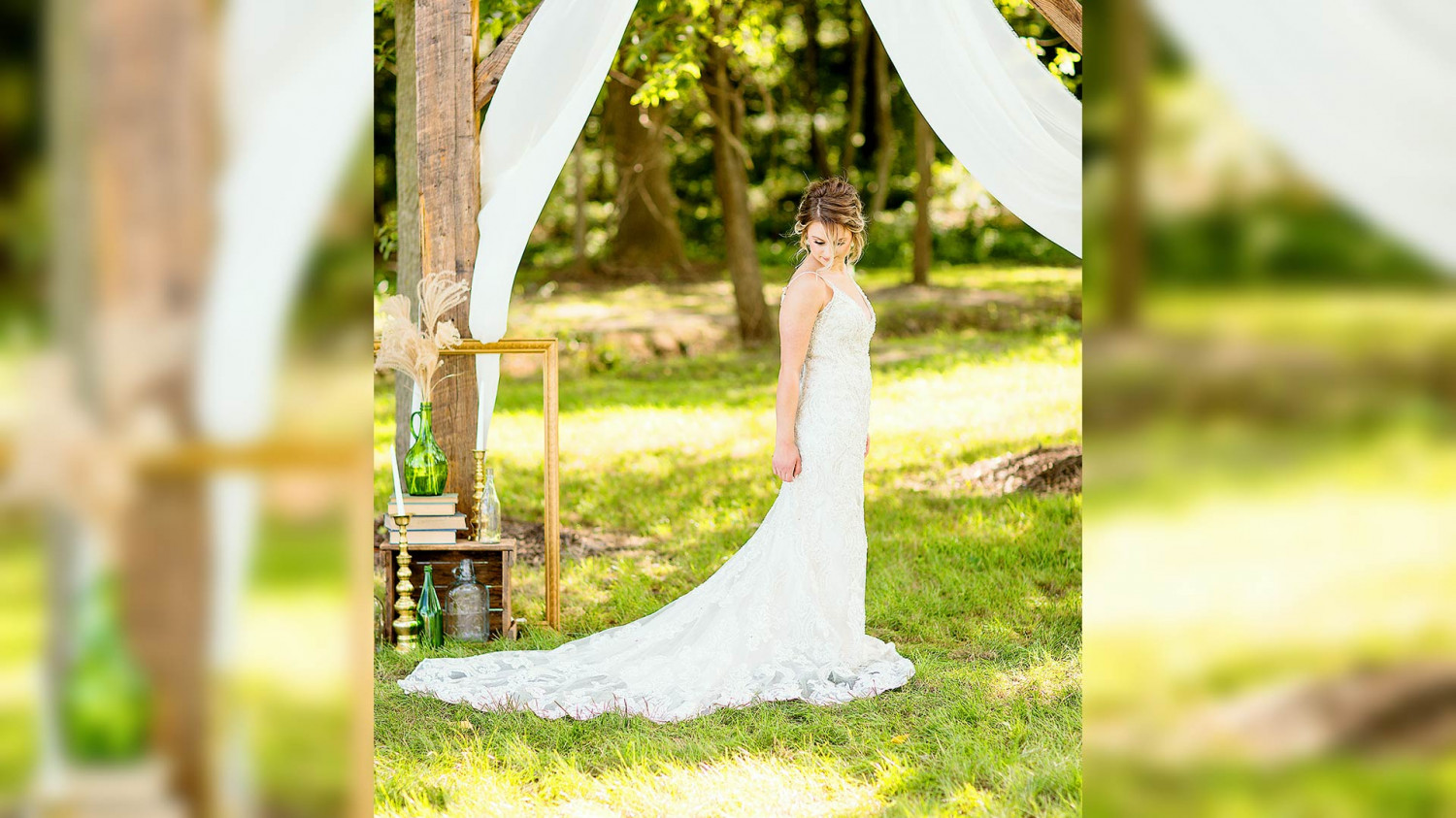 Find the Wedding Dress of Your Dreams
Visit The Bridal Shop in Coralville, Iowa to shop bridal gowns from top designers


---
At The Bridal Shop, we carry a variety of wedding dresses created by the world's top bridal designers. We offer a vareity of silhouettes, colors and have sizes from 8-24. Our Coralville, Iowa boutique features bridal gowns from top designers and bridal lines, like:
Contact Us
Unforgettable service and bridal expertise
Years after your wedding day, you'll still remember the moment you found the dress. The staff at The Bridal Shop ensures that every bride has a one-of-a-kind, personalized experience through every stage of the shopping process.

We schedule our bridal appointments for 90 minutes so that our staff can focus solely on you, without interruption. You will have our utmost attention as you browse, try-on and feel gorgeous in our exclusive collection of designer bridal gowns. To schedule an appointment, call today.
Fashion-forward and girlish, yet effortless wedding gowns remain at the core of the Adore by Justin Alexander Collection, designed for independent women with an active and modern lifestyle.. They are also designed for the chic, fashion-forward, budget conscious bride looking for an affordable and fresh look for her wedding day. The Adore Bride is informal, trendy and modern. She is open the experiences and beauty that life offers. She is source of joy for those around her. She is light-hearted and youthful. She has an authentic personality and is guided passion.

AVG Price Range: $999- $1249
---
They are in a lifelong commitment with bridalwear. It all started in Sydney, Australia twenty years ago when Maggie Sottero wedding gowns were first imagined. Maggie Sottero is a gown for every love story. It's designed for the true-blue romantic with an elegant yet personalized wedding vision. Maggie Sottero gowns are meant to make a bride feel like the "best version of herself." A design features impeccable construction, with one or two covetable and captivating details.
AVG Price Range: $1500 - $2800
---
The Mori Lee Brand started in 1953 in New York City as a family business to fulfill the dreams of brides. Went from a small family business to a leading global brand. We started out making dresses for select shops in New York City. Now, our dresses are sold in 3,000 shops worldwide. Their mission: "Our dresses highlight your natural beauty with a perfect fit designed just for you."

We have three Mori Lee collections at The Bridal Shop:

The Mori Lee Signature Collection is for Timeless Classics for the true romantic. Mori Lee Signature Collection features fresh takes on a classic Bridal Styles. Designer Madeline Gardner creates magic with iconic a lines, flowing ball gowns and stunning contoured mermaid silhouettes.

The Blu Collection is for Modern and structured with notes of romance. The Blu collection features structured Silhouettes in sultry Larissa Satin and luxe crepe. Designer Madeline Gardner creates movement with softly draped English net and tulle, and adds drama with flattering necklines and breathtaking back details.

The Julietta Collection is for a celebration of curves. The Julietta Collection is crafted to fit and flatter with stunning Silhouettes, from softball gowns to statuesque mermaids and soft dropped waist lines. Julietta glows with lux details like sparkling Crystal beading and Rich floral laces.

AVG Price Range: $825 - $2800


---
Allure Bridal for The Bridal Shop
Allure Bridal gowns are unique to The Bridal Shop and we do not carry gowns from their website. Please ask for more information.


---
Designers gowns that are aisle-ready. These gowns are unique as they will not be in the store again.

Price: Starting at $299



---
Bridal Gowns-Size range of 6-26 in store to try on. Can order up to size 32. Included that all designer gowns in our boutique come in different silhouettes, colors, sizes, fabrics, style enhancements, personalization's.